Warm out of my player is a grindhouse special of I Drink Your Blood. This film opens to a group of hippies surrounding a camp fire and performing a sacrifice for the father, Satan. Just off in a distance is a local town girl watching in fear, who is soon noticed by the group and beaten (possibly raped) for witnessing the act. When morning breaks it is time for the Satanic band to move on, but they are experiencing car trouble and have to look for shelter in the nearby town instead. This particular town, to their advantage, is becoming a ghost town due to recent construction work so most that remains is a small family (including the beaten girl from the night before) and their bakery, while the rest of the area consist of boarded homes.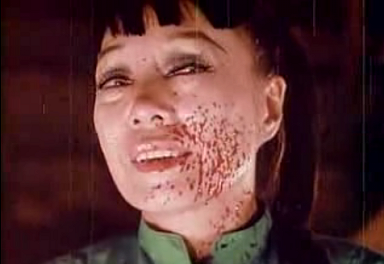 The odd group are quickly noticed by the family and the grandfather is ready to set them straight for having way with his granddaughter. The intimidation doesn't get the elder man far, as he lays defeated at the gangs feet and LCD is dropped in his mouth to keep him calm. At this point the nosy little grandson is looking for ol' gramps and manages to get him home so that he can attempt revenge of his own(Tough kid to try and go up against 8 psychos). On his way to hopefully shoot the band members, the kid runs into a rabid dog which is put from its misery and its blood is used to contaminate the group instead. This is where things get even weirder and by the following morning those in the town become infected and the movies ends with a zombie feel. A lesson learned is not to have sex because women will spread rabies, and never buy meat pies for $.25!
To get this out of the way I want to point out that this movie twisted my panties in a bad way with its unnecessary use of dead animals, and this is coming from a woman that was raised with a gun in one hand and fresh meat in another. In the situation of food, I feel that it is understandable to provide for yourself or family… But I am against unnecessary killing under normal circumstances. To start the film by cutting a chicken's throat and watching its head bob around as it dies is not my cup of tea. Not to mention killing rats, dragging a dead goat, beating a rabbit, and a young boy 'killing' a German shepherd. It doesn't show the dog dying, and hopefully I would like to think that the dog was not actually killed, but the last view is a close up of the dog lying lifeless with blood on its neck. So to keep myself from getting upset, I am just going to tell myself that it was a dog actor regardless of the grade of film and being made in a time when animal death was a cheap alternative for easy squirms in movies. I am NOT for PETA or anything of the sort so don't get that impression from my remark, I just have a solid view on mortality.
This movie had some entertaining gore, and I was actually impressed with the realism of the severed body parts. Though this movie had an original plot it is not something I would feel is necessary in my collection... and with that I think one could live without viewing. BUT if you want a movie in the background while you sit around and throw a few back with friends, this would work great because it did have some good humor and the ending quote was so cheesy I could barely keep it together… It made me feel like I finished watching a old informative film about the dangers of rabies.