As a child one of the scariest things for me were mannequins, dolls, or even teddy bears(god help me after seeing
The Pit
), so when I saw the movie
Pin
I could not believe the idea that a child actually accepted guidance or lessons from what was believed to be a talking and skinless display dummy. Seriously (Seriously?), that should have been a red flag. But setting a few of my childhood fears aside, this was actually an interesting movie and I liked it as a psychological thriller.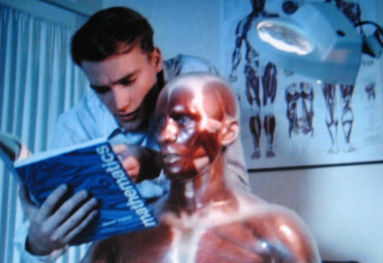 The main character is Leon, who doesn't get adequate love from his OCD crazed mother or his distant father, so he looks to a life cast anatomical mannequin named Pin that is held at his father's health office. Growing up, Leon and his Sister Ursula would visit this dummy during check ups or when in the company of their father, and since their father had a talent of ventriloquism he would talk with his children through Pin. With Leon's emotional state, he was left believing that Pin was real even when progressing through High School. When his father realized that Leon was spending evenings in his office carrying full conversations with the dummy, it was quickly decided that the dummy had to go and Leon wasn't doing so good. The father figured to leave Pin after a speech at a local Hospital but during the rushed drive to the clinic they got in a deadly crash leaving both parents dead, but Pin in the backseat waiting for Leon's assistance.
This movie guides you through Leon's struggle with his multiple personalities as he keeps Pin part of the family in his newly inherited estate, but with this you watch Ursula helpless in trying to live a normal life while still accepting and caring for her unstable brother. The movie ends in the progression that is expected, but it is still interesting to watch Leon's mind unravel as he tries to keep his idea of 'perfection' together. Gore was not a necessity in this movie, but there is a little deep red to fill our morbid desires.