Ieemmmmmm back! We took a needed vacation to Washington to visit my favorite lady, so I apologize for being a bit behind. Updates are not very filling as we mostly just laid back and relaxed during our stay, but we did go out and see
Valkyrie
on Christmas. I will NEVER do that again, ever! We walked in before previews or anything like that, and we were stuck down in the front row pretty much staring at the ceiling to try and watch the movie. My background on the movie was limited as I saw one mini preview commercial, and didn't have a clue what time during the war it was about, or even the character outline... but I did remember seeing Tom Cruise in uniform, and every Oprah commercial I see he is guest on... so it was obvious what kind of direction the movie would be in, and that it would have absolutely no understanding for the movement so I wasn't very excited that we would be paying to watch Hollywood pump out another waaa-waaaa story, but I didn't have a choice.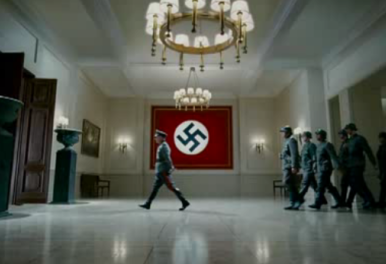 At opening for the movie I was excited thinking that it would be played out in German as the subtitles were already pressed, but it quickly faded to English so I was disappointed. It opens to Colonel Claus (Tom Cruise) writing in his diary his regrets to partake in the war, and how he is torn between defending his country for his family and following guidance from a man that he viewed as evil, being Adolf Hitler. Moments after closing his journal the area is bombed and under gun fire and he is left crippled on the ground later resulting to an amputated arm, several missing fingers on his working arm, and a missing eye. With pride he attempts to follow his place in the group regardless of his injuries, but he soon is in final decision that Hitler must be brought down from power and the war needs to be pushed to its end.
I have mixed feelings in regards to the war, but to keep from offending the vast majority of people from misunderstanding I will keep most under wrap and not get to blunt. One thing that really gets under my skin about this Hollywood produced piece is that anybody who understood Hitler's view and defended their land were marked as villains. I will again admit that I do not agree with some aspects of the war, but Hitler was picking up the pieces of his fallen country and trying to group his men to honor the land again. Life isn't a Disney movie and sometimes you need to pull up your boots.
Ahem, anyways… The gore and battle wounds in this movie amazed me. I was very impressed with the work done, even the CGI touchups and usually I am dead set against any use of 'Nerd Gore'(You like that B.W?). The costume department also did a nice job and definitely worth noting, it kept me and mah lady Winter squirming in our seats with enjoyment (at least SOMETHING kept us happy). One thing that I got excited about in the movie is when they started talking about Mussolini coming for a visit, but they never even showed an actor portraying him. I was pretty heart broken because I like seeing impersonators, they amuse me. I was also irritated because they went on a Dago trip and started with the 'Greasy Italian' shit.
I am sure most of the people will run out and see this because it is imprinted that the war was horrible and Hitler was a bad man. I would not recommend this to most, but in a visual way I think it was beautiful (uniform, backgrounds, gore, etc). So don't rush out and spend office price, but if you have interest I think this would make an entertaining rental.