Before spending the unfortunate time and money to see Valkyrie, a movie was previewed that caught my attention for both bad and good reasons. Any horror fan will probably have th same thoughts when I say the title
My Bloody Valentine 3D
... "Bastards remaking ANOTHER classic"... "Ooh, but 3D sounds nice"...
Well after days of whining I finally convinced Ray that we had to go and I will even pay... and as far as I am concerned BW owes me $20 haha! We got there atleast 15mins early to hopefully ensure good seats, and it should have been a red flag when the theater was empty and by the introduction statement "Please put on your 3D glasses now" there were only eleven people, including myself and Raymond.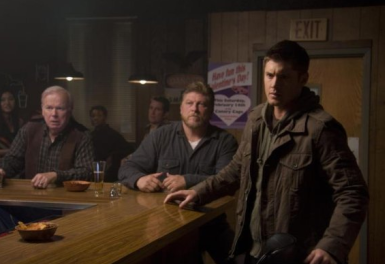 First impression is the movie had a horrible flow and immediately jumped into action. No suspense, no needed buildup, but a mining pick threw the back of a kids head with a CGI animated 'eyeball' impaled on the tip. Fun to watch thanks to our overpriced snazzy single use glasses, but bad for a movie.
After this meaningless introduction of gore thanks to disposable teenagers, the scene closes with a group of fleeing survivors running to their truck outside the mine, making the decision to leave behind a fallen friend at the entrance. This kid Tom lives to see another day though because a group of parents are on the killers tracks and have a shooting showdown.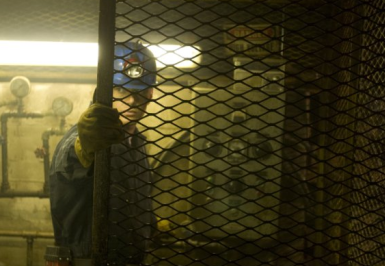 Years later Tom returns back to his feared hometown to sell the mines owned by his late father. While meeting with old friends and dealing with the mines, murder starts up again in the town leaving them to think that the killer has returned from the grave or a copy cat is in action.
Again, this had a horrible flow. The plus side with this movie is it actually had a good idea to refresh the original, but it seems like it got in the wrong hands. The acting was bad, but I will say that they had a weak script to work from. This is an obvious example of a pushed out movie that was only geared to make theatrical benefit without caring for a lasting impression. This is unfortunate because it had potential to be something really good but will make a horrible rental and I question the judgment of any individual that would consider purchasing it from their personal collection. Also, to rub some salt on the wound the gore was repetitive or fully computer animated... both are big no-no's in my book.
Im waiting for your review BW... waiting...