Today is an impressive day! I just got in the mail Fatal Addiction: Ted Bundy's Final Interview on VHS. This is very limited copy and I got one for an absolute steal, so needless to say I am really excited. Downside? The tape has some wear and has a high pitch squeal for the first 5 minutes, and even sounds horrible when rewinding. Anybody know if there is a way to realign and fix this? Is anybody familiar with copying VHS format to DVD through a computer or anything? I would like to have a solid personal copy for myself and not fear that this is a single view.
For starters, I have always had a preference for Ted Bundy when it comes to serial killers... Without doubt he has to be a favorite. Somewhere between his good looks and morbid lifestyle he had me… but then again I am a sick lady. I really wish he was still alive because I would likely write to him and get to know him better. That is the hardest part for anybody with a fascination for killers is that they are often dead.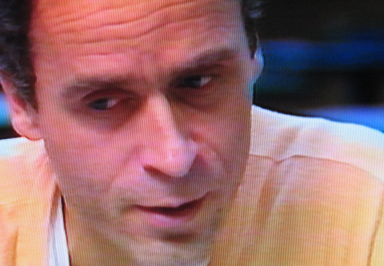 This VHS is dedicated to "The Fight Against Violent Pornography"... how funny is that?! The tape starts with the interviewer talking with another man in regards to the talk he had with Bundy, and the after effect considering the interview took place the day before his execution. Finally they clip to the interview... Ted is reviewing how things led up to his murders. He reviewed that he came from a fairly stable Christian family, but like other young boys he would play on the streets at a young age and would find interesting items in garbages or various areas and some of these items made an imprint on him. Ted found an assortment of pornographic magazines, violent photos from detective magazines, and hardcore pornography. All these things bound together sparked his attention and he found excitement from them… so over time he began searching for more hardcore pornography as he felt that porno was his addiction, as he was constantly trying to find better and harder material. Finally, he admits that he came to a point where he realized that the next step in his sexual progression is to find women to perform these acts on, and he ended up spiraling into his desires which led to murder.
He also briefly discusses how graphic television has become, especially horror movies, which I find to be amusing because in reality I bet he was jacking off in his cell over it. Actually seeing Ted's reaction to questions, his thoughtful answer and passion from his statements was mind blowing. When discussing particular matters like his first murder he would close his eyes and pause for a moment. The interviewer later stated that he felt like Ted was being sympathetic of his actions, but I think he was just reliving them considering he often had a quick smirk or lack of guilt in his eyes. Bottom line is, he enjoyed what he did, otherwise he wouldn't have done it.
I absolutely hate the Christian ending to the interview, which reminds me how much people piss me off. We are growths and just playing a forgettable part in the world, so trying to comfort someone in a weak position with a lie like religion infuriates me. Ted said time and time again, he was raised 'Christian' and to know what is morally considered right and wrong. There is a breed like him sprouting up all over the world, it was not just one thing that made him who he is. People don't like to see the fact that Ted is just Ted. Every one of us is different and unique, but we all have a drive inside of us that fuels who we are. Christianity is not going to save anybody from their own nature.
Though this video was shorter then I would have liked(which isn't hard, I could watch these non stop), this was without doubt worth it and I am SO happy to have it in my collection. On that same note, I am curious what killer or violent individual other people are fascinated with and why… in the mean time I will be cuddling with this movie in bed ;)